Introducing the 2022 Maserati MC20 Specs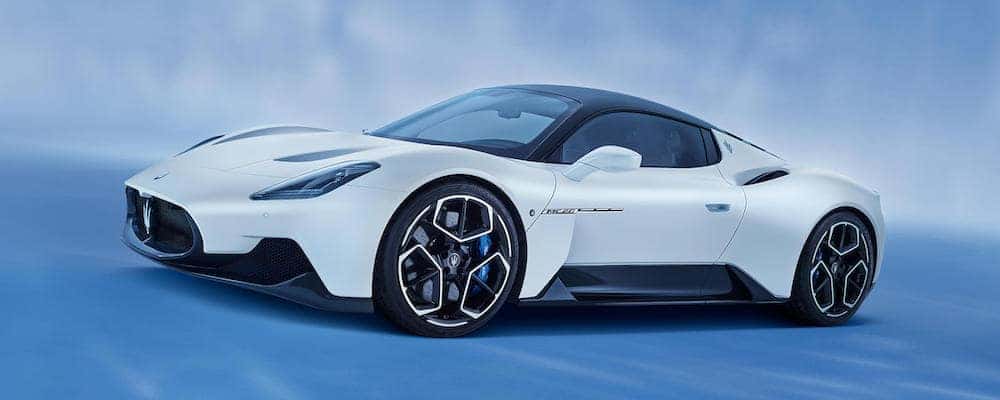 ---
---
The MC20 Coupé will arrive as a 2022 model, but already, performance enthusiasts from Scottsdale to Chandler and beyond are lining up to see what it can do. With just a glance at the Maserati MC20 specs, you'll have no trouble seeing why.
Even on paper, the Maserati MC20 engine appears to generate earth-shattering forces and practically unparalleled speed. If its 2.9-second 0-62 time isn't enough to pique your interest, read on! We can't wait to show you everything this model can do.
The Maserati MC20 Engine: Passion Incarnate
The MC20 Coupé has been designed and engineered with a racing-derived 3.0-liter V6 Nettuno Engine with a 90-degree layout, dry sump lubrication, and the kind of beautiful exhaust note that only Maserati can deliver.
Ultimately, there's no amount of description that can do it justice. Without further ado, here's a closer look at the Maserati MC20 engine specs:
Engine Displacement: 183 cubic inches
Maximum Power: 621 hp
Peak Torque: 538 lb-ft
Bore: 3.46 inches
Stroke: 3.22 inches
Compression Ratio: 11:1
Maserati MC20 Specs: Time Tests and Top Speed
How do the aforementioned Maserati MC20 specs make themselves known in the real world? There's no way around the fact that this model is a force to be reckoned with:
Acceleration from 0-62 mph: Less than 2.9 seconds
Acceleration from 0-124 mph: Less than 8.8 seconds
Maserati MC20 Top Speed: 202 mph
Braking Distance (From 62-0 mph): 108 feet
CX: Less than 0.38
Driveline: Rear-Wheel Drive
Rapid acceleration gives the MC20 an undeniable edge, even when compared to the fastest production cars that are made by the brand today.
Maserati MC20 Specs: Weights and Dimensions
The beating heart of the Maserati MC20 deserves the most stunning, sculpted package available, and the Maserati design team has outdone themselves once again. Every element of this vehicle's construction lends itself to the incredibly potent performance that sets this soon-to-be-legendary coupé apart:
Total Vehicle Weight: Less than 3307 pounds (1500 kg)
Engine Weight: Less than 485 pounds (220 kg)
Length: 184 inches
Width: 86 inches
Height: 48 inches
Wheelbase: 106 inches
Front Track: 66 inches
Rear Track: 65 inches
Front Tires: 245/35 ZR 20
Rear Tires: 305/30 ZR 20
Fuel Tank Capacity: 18.85 gallons
If you're getting ready to configure a model of your own, you'll definitely want to learn more about the available Maserati MC20 packages and options.
Be Among the First to Experience the MC20 Specs in Person!
We're on the edge of our seats as we wait for more information on the upcoming Maserati MC20 sports car. If you want to be kept up to date on the latest details and releases, let us know or bookmark our blog today. In the meantime, find out what we know about the 2023 Maserati GranTurismo!
More From Scottsdale Maserati
The 2023 Maserati Grecale will be arriving soon at Scottsdale Maserati, and anticipation is growing among drivers throughout the Paradise Valley area. This compact luxury crossover SUV promises dynamic performance with the unmistakable style that Maserati is famous for. Slightly smaller than the Maserati Levante, the Maserati Grecale dimensions will help to deliver nimble handling on…

The cutting edge design, technology, and comfort features of the all-new 2023 Maserati Grecale interior are sure to take your Scottsdale-area driving experience to a whole new level. Like the Maserati Levante, the Grecale is a luxury SUV that combines world-class performance with all the premium amenities that befit a vehicle of this class. The…

The 2022 Maserati Ghibli is a premium luxury sedan that is not only elegantly styled but also delivers the kind of dynamic performance that will take any drive in and around Paradise Valley to a whole new level. The Maserati Ghibli horsepower is impressive no matter which one of the available trim levels you choose….