2020 Maserati Ghibli Reviews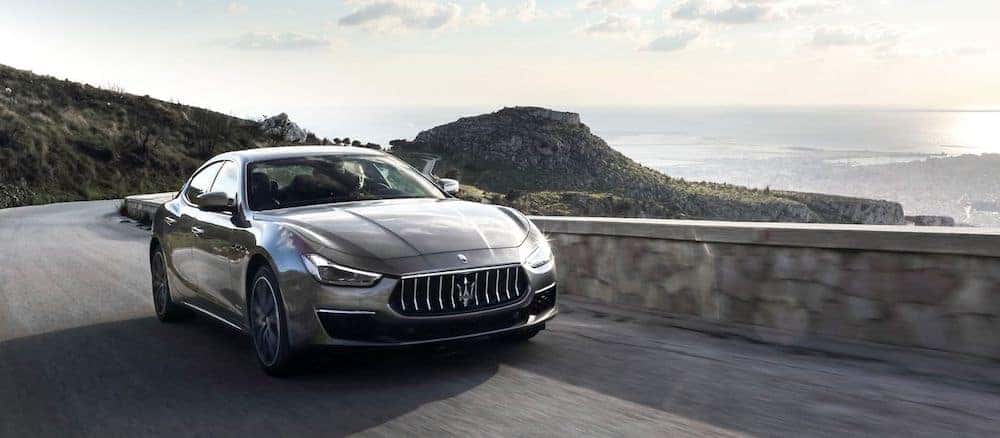 In the latest Maserati Ghibli reviews, experts have been quick to point out what the Scottsdale region's savviest drivers will almost certainly already know. The 2020 Ghibli is a one-of-a-kind luxury sedan with peerless style and panache, and it's offering more than ever before in the new year.
Still not sure of what to expect? We've covered all of the most reputable new Maserati Ghibli reviews we could find, and highlighted the most important points below.
---
---
What Are the New Maserati Ghibli Reviews Saying?
Car and Driver
Reviewers point out that this "hot Italian sedan" is identified by its "deliciously curved lines" and "quick acceleration." They also let us know that it "sounds fantastic" when the engine gets going.
In their review of the Ghibli S Q4 GranSport, Car and Driver sung the praises of this "refined machine that mixes equal parts Rodeo Drive luxury and Mulholland Drive sportiness." They go on to note that "it's equally comfortable for daily commutes and long trips".
Kelley Blue Book
For these reviewers, the strengths of the new Ghibli include its "Ferrari-sourced engine," its "emotional exhaust note," and its "sumptuous materials." We can't help but agree!
Comparing the Ghibli to its chief rivals, KBB points out that "the Maserati Ghibli is far more exclusive and has the kind of panache that comes with the Maserati name."
They add that "This Italian luxury car also boasts fine craftsmanship, alluring design and an admirable roster of technology and active safety features."
Motor Trend
For the reviewers at Motor Trend, there's no way around it: "Saturated with pizzazz and emotion, the Maserati Ghibli makes every drive an occasion."
These experts were no less excited about the Ghibli sedan's "Wonderful V-6 engine note," "Exciting and emotional personality," and "Abundant interior trim options." It's in this last area where the latest Ghibli truly stands apart from its predecessors.
What Else Should You Know About the New Ghibli?
If you're reading the new Maserati Ghibli reviews, there's a good chance that you already have some idea of what to expect from this head-turning Italian sedan. Still, you might wonder exactly what new features are on the table for 2020. Here's a brief overview of the changes:
GranSport and GranLusso configurations both receive a suite of new features that can take your Paradise Valley and Chandler adventures to the next level. Soft-close doors and a heated steering wheel are two additions that you'll notice right away.
A new Driver Assistance package combines some of the most popular safety features of yesteryear in a single selectable group. With it, you'll receive a blind-spot monitor, an automated forward braking system, a surround-view camera system, and much more.
Interested in learning more? Check out the new Ghibli price structure and find out what to expect from its interior.
Write Your Own Ghibli Review at Scottsdale Maserati
If you're loving what you've found in the new Maserati Ghibli reviews, don't wait to check out our new vehicle specials, or our Maserati Ghibli lease specials! We want nothing more than to get you behind the wheel, and we've made it easy to shop our virtual showroom at home.
More From Scottsdale Maserati
In the latest Maserati Ghibli reviews, experts have been quick to point out what the Scottsdale region's savviest drivers will almost certainly already know. The 2020 Ghibli is a one-of-a-kind luxury sedan with peerless style and panache, and it's offering more than ever before in the new year. Still not sure of what to expect?…

In both its coupe and convertible configurations, the 2020 Maserati GranTurismo delivers a truly impeccable ride. Our friends and neighbors love this touring vehicle because it handles beautifully and never leaves the driver wanting more. After all, it's a very potent vehicle! The Maserati GranTurismo 0 to 60 time tops out at 4.7 seconds, so…

The 2020 Maserati Ghibli is equal parts elegant and aggressive, and the inside of its cabin forms the perfect complement to its potent powertrain. If you're ready to take a closer look at the Maserati Ghibli interior, explore our breakdown of its design features, amenities, and dimensions below! We know you'll be excited by what…